Faecal Sample Extraction Devices
CALEX
®
simplifies and assists the pre-analytical faecal extraction process.
Faecal sample collection and extraction is now made quick and easy with dedicated, specially designed products to minimise operator contact with the sample whilst optimising extraction of the analytical parameter.
Applications
Weighing the sample is still considered the Gold-Standard practice for calprotectin extraction. However, due to the nature of samples, products have been developed in order to minimise sample handling time for laboratories, clinicians and point of care applications.
Transform Your Faecal Testing
The unique CALEX® Cap stool extraction device, from BÜHLMANN, the market leading calprotectin assay provider (*as determined by NEQAS returns), contains a measured amount of extraction buffer.
The need for sample weighing, pipetting or decanting is eliminated and direct loading of the extraction device onto ELISA processors and automated platforms is enabled.
With rapid, clean and consistent sample preparation every time, the BÜHLMANN CALEX® extraction device offers a convenient and safe stool extraction method that optimises dilution and yields maximum extraction efficiency that will improve workflow efficiency whatever your calprotectin requirements:
Extended range Quantum Blue® point of care calprotectin enables simple sample preparation by patients with the CALEX Cap

CALEX Cap devices can be directly loaded onto DS2 processors for BÜHLMANN fCAL™ ELISA

CALEX Cap devices can be directly loaded onto many clinical chemistry platforms for BÜHLMANN fCAL™ Turbo

IBDoc® Calprotectin self tests use the CALEX valve for a simplified test process
Measure faecal calprotectin and p-elastase from the same sample:
CALEX is also fully compatible with the BÜHLMANN faecal elastase assays enabling testing of both biomarkers from one sample extraction tube.
Benefits
Rapid, Clean & Consistent Sample Preparation Every Time
Users of the BÜHLMANN range of faecal calprotectin assays and fPELA (elastase) assay can improve efficiency and laboratory workflow with the CALEX® Cap extraction device:
Patients can be given the CALEX to return instead of stool samples

Delivers a precise amount of faecal sample

Optimal dilution is achieved

Can be used directly on many automated ELISA systems and Clinical Chemistry analysers

Excellent correlation with the Gold Standard extraction method

The stability of fCAL samples within the CALEX is now:

Ambient - 7 days

2-8C - 15 days

-20C - at least 23 months

The stability of faecal elastase samples within the CALEX is:

Ambient - 8 days

2-8C – 12 days

-20C – at least 24 months
Fully Automated Faecal Testing is Here!
Modifications to the blue and white caps at either end of the CALEX device, enable them to be used on laboratory track systems for a truly automated hands off approach to faecal testing.
The white cap has been rounded so that once the stool has been sampled the CALEX can fit easily into the racks and pucks of laboratory track systems for front loading or full random access mode. The CALEX is then automatically identified from the barcode and centrifuged.
The modification to the blue cap enables automated de-capping after which the CALEX is transported on the track to the appropriate analyser for the calprotectin or pancreatic elastase analysis using the BÜHLMANN turbo assays before being moved to the automatic sealer and storage area. Results are then automatically reported on the laboratory LIM system.
Combined with the speed of result and wide assay range CALEX truly revolutionises the approach to faecal testing.
If you wish to try Track CALEX in automated mode please contact us for the application notes that your track engineer will require.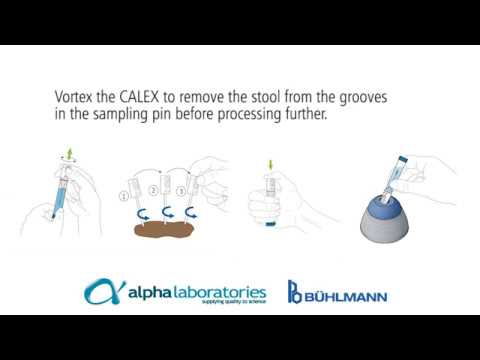 Complete Calprotectin Automation with Track CALEX® from BÜHLMANN
CALEX
®
Cap Collection Set – Faecal Home Extraction Kit
CALEX Cap is is the first and only stool extraction device air and land transportation according to IATA 650 (UN3373) regulations.
This allows the option to outsource pre-analytics to the patient's homes, increasing safety for laboratories and revolutionizing speed, efficiency and cost savings in the stool testing workflow.
With the CALEX Cap Collection Set it is possible to keep stool samples away from the laboratory and measure faecal calprotectin and p-elastase from ready-to-use extracts using the high quality BÜHLMANN assays.
The kit contains 1 x CALEX Cap, 1 x Instruction for use, 2 x sample collection sheets, 1 x label for the CALEX, 1 x plastic bag.
Faecal Sample Extraction Products